Thoughts from Lisbon, Berlin and Madrid
By Doerte Weig
How can we best share what we're developing with the Somatics Toolkit?
Since I joined the project in May 2018, I have worked on project impact activities. Over the last few weeks, I travelled to Lisbon, Berlin and Madrid to raise awareness for the Somatics Toolkit in a broader European context and collect feedback on how we're doing things. The three events I participated in were: 'Why the World Needs Anthropologists' (WWNA for short) in Lisbon; the 5th International Fascia Research Congress(FRC) in Berlin; and the 'We Are All Able Bodies' (AAB) in Madrid.
The symposium series 'Why the World Needs Anthropologists' (WWNA) is organised by dedicated volunteers passionate about applied anthropology, who bring together researchers and practitioners to explore the diverse applications of anthropology beyond traditional academia.
This year's edition in Lisbon, entitled 'Designing the Future' with about 500 participants, focused on design anthropology, which makes use of ethnographic methods to bring a different quality to business anthropology and product and service design. Challenging ideas about autonomous vehicles, Sarah Pink  highlighted the potential of interventional approaches combining design and anthropology to frame the global future of humanity.
Designers using the tools offered by the Somatics Toolkit can deepen their connection with the design (thinking) process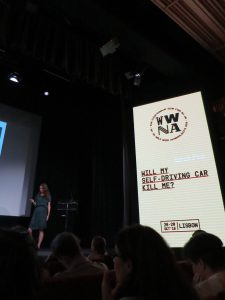 The WWNA was an ideal setting to talk about how the audio recordings that we are producing for the Somatics Toolkit take people into their bodies to see-feel-perceive the body as a research instrument. With regard to product and service development, designers using the tools offered by the Somatics Toolkit can deepen their connection with the design (thinking) process; in the end creating products and services more related to real human needs, and adapted to the ways people from different cultures around the world use (new) technologies in their daily lives.
My next stop was the 5th International Fascia Research Congress in Berlin (FRC for short). The term fascia refers to our bodily connective tissue, a network that transmits information inside our bodies and enables physical movement. Fascia is like a 3D-image of our bodies, extending from the outer skin into the depths of tissue, enveloping muscles, organs, bones and nerves. Rather than pure muscle power, research has shown that fascial sliding-shifting is key to movement. For example, the kangaroo's leap is a release of fascial tension, not muscular force, and the term 'tensional responsiveness' is used to describe the continuous fascial movements of shifting-sliding inside our bodies.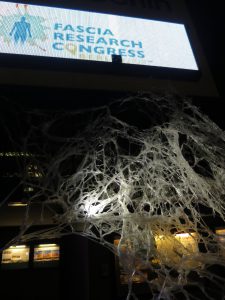 Fascia is vital to a person's sensing and movement capacities and is considered our richest sensory organ, which is how it becomes relevant to the understanding of somatics. In specialist terminology, it is relevant to interoception, the sensorial relationship people have with their own body, and proprioception, meaning that a person knows where his or her body is in space. Fascia is intelligent-adaptive as it absorbs, somatises, memorises everything that happens to a person and responds to the way a person lives and moves by becoming more or less permeable or solid over time. Are you starting to share my fascination for fascia?
How can fascia research support connecting the minutiae of bodily processes with academic research and the researchers' well-being?
Attending the large FRC with participants and presenters from around the world allowed me to catch up with the latest in fascia research, a field that has developed only over the last ten years. Leading fascia researcher Carla Stecco detailed her views on how the incredible diversity of facial tissues and components leads her to consider fascia 'as a complex organ', as more than a mere network of bodily tissues. Presentations like the one given by Carla offered FRC participants food for thinking-sensing-perceiving, and for me served as an ideal introduction to discussing how fascia research can support connecting the minutiae of bodily processes with academic research and ensuring the well-being of the researcher throughout the entire research cycle.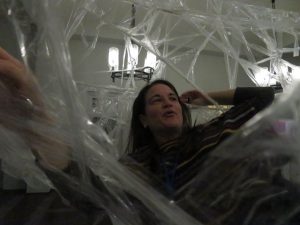 For now, I'm still digesting all the images and changes of perspective the FRC occasioned in me by seeing in more depth how my body works. Once I've figured out how to best translate that for others, especially for those who may have never heard of fascia, I'll turn it into an audio recording for the toolkit on the role of our bodily connective tissue in (academic) research. Make sure to check it out then.
In Madrid, the trans-disciplinary workshop-seminar 'We Are All Able Bodies': From Sensory Deprivation to Sensory Augmentation (AAB) brought together architects, artists and researchers working on the senses. The AAB was organised between the San Pablo CEU University Madrid and the University of Reading, with support from the International Ambiances Network. The AAB considered somatics for architecture and landscape, and in particular issues around functional diversity, "dis"-ability and spatial inclusion. This was a small gathering of about 35 people, and the programme included an incredible mix of classic presentations as well as experiments such as real-time, live moving-dancing with 4 people in California via Skype. This worked very well, as we were able to respond to each other's movement queues even via digital online transmission, and develop what felt like an invisible network of lines and threads connecting us.
How can we monitor the implementation of the Somatics Toolkit and ensure it is continuously adapted to best support researchers, designers, architects and other users?
The final part of the seminar was moving with Jone San Martín, a powerful and beautiful dancer who has worked with the renowned choreographer William Forsythe for over 20 years. Jone took us all on a spatial journey, opening up new ways of understanding the expansion of our bodies in space.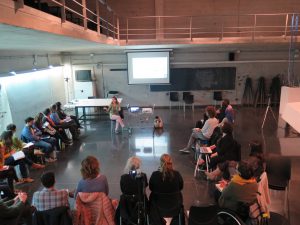 Presenting the status quo of the Somatics Toolkit in this context was a great pleasure. AAB participants offered valuable input on how it can and should be expanded into fields beyond anthropology. We also talked about the necessity to monitor the implementation of the toolkit over a longer period of time, which is a key question for the core toolkit team, so for Eline, Ben and me. We don't want to create just another pretty webpage, filed under the currently fashionable term 'toolkit'.
With all this great input from the conferences, we have material to work on the future of the Somatics Toolkit, which we hope to share with you at the Somatics Toolkit Launch Event on March 22nd2019 in London. All welcome to attend!
And if you have ideas for audio recordings, or blog contributions, we're keen to include co-created content, so please be in touch.