Background
Since ethnography's somatic or affective turn, a researcher's physical sensations are understood to contribute to insights into people and cultures. However, there are no adequate courses that teach students how to be in their bodies and utilise their body as research instrument.
This project translates insights from somatics to scholarly research, and explores the contribution and benefits that can come from such integration. Somatics enable a structured exploration of body awareness, deepening the researcher's understanding of subjects' experiences regarding complex issues, resulting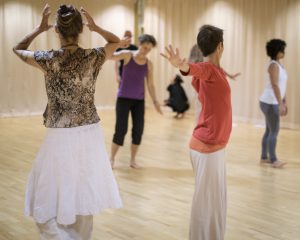 in a richer and more authentic representation of the data.
Using the body as a source of understanding as well as support throughout the entire research cycle benefits the researcher as well as (lay) audience.
Firstly, the toolkit offers different approaches to conducting a literature review, gathering data, analysis and dissemination.
Secondly, it provides mental and emotional support to the researcher during challenging aspects of the research cycle. At a later stage we might also be looking at a third application, of enhancing physical awareness in the process of knowledge translation.
Aims
To explore the role of physicality, embodiment and the contribution of somatic techniques to ethnography
To contribute to somatic training within UK anthropology teaching and research
To support physical and emotional wellbeing of students and researchers
Objectives
To design a toolkit that explores the body as an instrument for research throughout the entire research cycle of pre-fieldwork, fieldwork and post-fieldwork phases
To collect and analyse data on the utility of the toolkit through participant questionnaires, qualitative interviews, focus group discussions and case-studies
To produce several outcomes including tutorials and two peer-reviewed scholarly articles (one of which will be video-based)
To apply for further funding to enhance the somatics toolkit and make it accessible to other stakeholders beyond anthropology.
Research questions
What activities and (contextual) conditions will support researchers in bringing body-based and somatic techniques into their specific research context?
How can improvised, conscious movement and somatic practice in a studio setting support thinking, knowing, analysing and connecting research activities?
What, if any, are the effects or influences on ethnographic work of engaging more deeply with somatic attention and enhanced 'physical literacy'?
Research methods
Tracking primary and secondary sources on the role of the body and bodily intelligence within research, specifically on using the body as a research tool and instrument for knowledge creation.
Practice sessions to develop the toolkit with somatic practitioners, Anthropology PhD students, and specific case-studies from other disciplines. Focus will be on discerning relevant themes, sensory awareness training and receptivity, specific movement instructions and reflection on the tools used.
The efficacy and utility of the toolkit will be monitored and adjusted throughout the project, using developmental ethnographic tools such as:
Participant observation during the practice sessions reflected in field notes and research memos.
Participants will be asked to fill in a pre- and post-session questionnaire to assess their understanding of the method, their experiences, and any feedback to improve the approach.
In-depth qualitative interviews and several Focus Group Discussions will be conducted with some participants to deepen reflection, and also inquire if the toolkit has been useful over time.
Analysis
The primary lens through which data will be viewed is that of sensory anthropology, which recognises the role and meaning of sensory experiences as culturally constituted. It pays close attention to sentiments and emotions which are considered closely related to physical sensations. This approach not only includes the senses as important contributions to research, but also questions the variations of sensory references across cultures.
The hermeneutic cycle will be applied throughout the entire research project, constantly moving between subject-object and pre-understanding and understanding to address the intricacy of data and interpretation as an ongoing process.
Triangulation of session data, participant questionnaires, qualitative interviews, focus group discussions and case-studies ensure rigour, reliability and credibility of the outcomes.