From Kafka's Burrow to Underground Sensings
By Johannes Birringer
*) The second half of this blog (2) is adapted from the script for Underground Spatialities (2019, Houston, Texas) which has been performed live by Johannes Birringer on several occasions.
(1)  Kafka's Burrow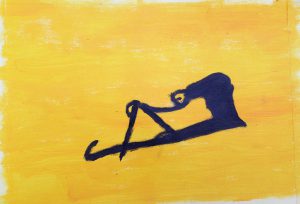 I made this painting, inspired by Kafka's "Der Bau" (The Burrow), which is an unfinished short story he wrote shortly before his death.
In "Take Up the Bodies: Theatre at the Vanishing Point," Herbert Blau delved into "The Burrow" as a potential parable for an acting theory, or potentially a speculative theory-architecture of a kind of vanishing, disappearance & appearance on some stage or frame of consciousness.
Blau (after having written a manifesto on "The Impossible Theatre") also reflected on the aftermath of the 1960s and how performance or radical art after 1968 survived into the 1980s. He questioned whether it could survive further, and he dug into, not so much the roots, but probably the dirt (and the abject and the tawdry) of many questions lurking below and above (not sure now about the tactile animals  – moles, muskrats and beavers who burrow). Questions that addressed the performing self, masking, hiding, the doubleness, the ghosts of guilt, fear, paranoia, solipsism, haunting voices, decrepit and agile bodies, alternative narrative structures, group processes, indeterminacy, aleatory elements, and probably many myths that theatre can't do without.
When I heard about this Somatics Toolkit, I remembered burrowing, crawling in the dust, of stage or landscape, experiencing body weather. I'm interested in the lowering and why (often) the underground is associated with darkness, and death, and tunnels often considered dangerous or hidden (unlike the underpasses that may connect light to light), thus surreptitious, secretive, furtive. On the other hand, there must be very many healthy tunnels too.
 (2) Underground Sensings: a brief evocation of the Rice Tunnels
Early morning, waterfall outside gathering point, the ship in the sky, made of blue steel, helicopter hovering next to the ship in the sky (Memorial Hospital). The engineer who expected us thinks it has a camera underneath its belly. The helicopter photographs us from above. I get my camera ready.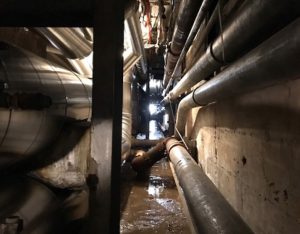 I crawl under the "Exhaust." A beautiful abstract artwork, a double helix-like sculpture apparently built next to the control room of the plant, where the vent should have been. No one probably knows it is here. The exhaust was abandoned, a sculpture put in its place. We go inside the plant and are greeted by the staff. Harvey, the engineer, will be our guide.
He takes us into the Noise Room of the plant, and before entering we pass by the "Gym of Broken Dreams." When I ask, Harvey explains he does not see any progress in his colleagues' hard workout sessions with the heavy weights, hence the name.
Descending down the stairs into the Tunnels (underneath Rice University campus in Houston), the noise from the plant turbines is overwhelming. No word can be heard. The group descends, one by one, down the stairs. I am the last, and soon I lose track. The group moves swiftly and I am left behind. This was purposeful, so I could begin to feel alone and at home in the underground tunnel with its left and right pipelines. Left: Steam. Right:  Chilled Water. Or vice versa. There are also electrical cables and, from the older recent days, network fibre optics cables.
Archaeologically speaking, we move from newest tunnels (wider) to older tunnels (narrower) to very old tunnels (very narrow) – built 10 years ago, 20 to 30 years ago, to 80 years ago.  Our movement will perhaps not reach the oldest corridors, as they are so tight and narrow and wet, and thus less passable. Today we are not cavers, only tunnel walkers. One might have to crawl on occasion? Today we do not crawl, though we bend (under) and climb (over) pipes.
Heading into the labyrinth.
As I have lost touch with the group, and can only hear faint noise of voices receding, I have to make guesses, go right, then left, then right again, then straight, back, and forward again.
Tunnels are geometric. Linear. Straightforward and uneventful. The same, ad infinitum. Pipes on the left, pipes on the right, at some point, one reaches what the engineers, strangely, call the "Ballroom." I see no dances (I will later try to create one on in the theatre, using ice hockey as my movement inspiration). But one has a little space to turn, admire graffiti and wall paintings, and listen to the periodic severe crackling of condensation as it gets "trapped" in a trap.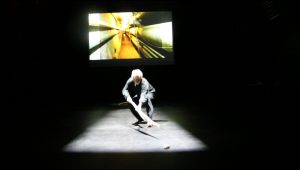 Trapping noise – this is the most beautiful sound I imagine, crackle music, sonic distortion, cracked media. Over the last decades, artists and musicians manipulated, cracked, and broke audio media technologies to produce such cracked sounds in performances. Here, the tunnels offer quite casually such an extended sound palette, including tiny trickles, whispers of water drops, and scratches, as one looks and looks and does not see much (apart from one long corridor where student invaders have left their scribbles and cave paintings. Charlie was here. Tommy loves Ryan. Fuck everything. I miss Hannah. You know nothing.
Water, steam and electrical grid are running there, as I walk up and down aimlessly. Valves draw attention, sand and dirt on the HVAC piping. Some older rusty metal pipes are wet, as if sweating. I imagine all this as flesh and bones, fluid systems, a vast underground body or a mass of branching, thread-like hyphae – mycelia. The floor is not fungal but concrete, some holes in the ceiling mean they are "manholes" to provide exit to the above (strange name, manhole). Below: The hydronic systems (both chilled and heating water) are closed-loop systems, meaning, I gather, that the total dynamic head of the pumps takes into account the friction losses within the piping system, associated coils, valves, and accessories….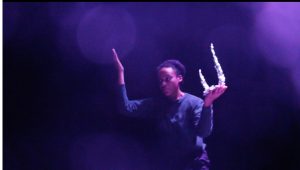 I end up trying to wait patiently for quiet, and then sound: recording the ticks, pops, and clicks of the glitches of this hydronic underground system, the tunnel only there to provide its safe operation for the 20m dollar annual utilities budget, using 250 million gallons of domestic water for the servicing of the university above the under ground. I also wait patiently for Harvey to turn off the electric lights in the long corridor where I wait at the end, wanting to walk in the dark. Finally, I see him at the far end, switching off the last light. I am alone in the dark now, able to listen without distraction.
You can listen to Johannes Birringer speak about his (underground) work in our Remember your Body Podcast episode for the Somatics Toolkit, which you can access here.
Acknowledgements
I wish to thank Michèle Danjoux, designer and co-director of DAP-Lab, and all ensemble members and collaborators in the DAP-Lab productions and kimosphere installation series for their vital artistic co-operation. I also thank Andrea Ballestero, Marie Saldaña, Mario Norton, Ayan Felix, and the anthropology team in Houston for their participation in the "Underground Spatialities." Finally, I thank all the artists, poets and scientists who worked with me at the coalmine Interaktionslabor between 2003 and 2015.
Websites
http://www.aliennationcompany.com
http://undergroundspatialities.com/
References
Barba, Eugenio and Savarese, Nicola (1991) A Dictionary of Theatre Anthropology: The Secret Art of the Performer. London: Routledge.
Böhme, Gernot (2017) The Aesthetics of Atmospheres: Ambiences, Atmospheres and Sensory Experiences of Space. Trans. Jean-Paul Thibaud. London: Routledge.
Birringer, Johannes and Danjoux, Michèle (2019) "Sound and Wearables." In: Foundations in Sound Design for   Embedded Media: an interdisciplinary approach, ed. Michael Filimovicz, London: Routledge, pp. 243-74.
Birringer, Johannes (2017) "Metakimospheres." In Susan Broadhurst and Sara Price (eds), Digital Bodies: Creativity and Technology in the Arts and Humanities. London: Palgrave Macmillan, pp. 27–48.
Birringer, Johannes (2016) "Kimospheres, or Shamans in the Blind Country." Performance Paradigm 12: http://performanceparadigm.net/index.php/journal/article/view/176
Birringer, Johannes (2013) "Audible Scenography."  Performance Research 18(3): 192-93.
Birringer, Johannes (2011) "Dancing in the Museum."  PAJ:  A Journal of Performance and Art 99: 43-52.
Birringer, Johannes (2010) "Moveable Worlds/Digital Scenographies." International Journal of Performance Arts and Digital Media 6 (1): 89–107.
Birringer, Johanness (2009) Performance, Technology, and Science. New York: PAJ Publications.
Cooper Albright, Ann and Gerer, David (2003) Taken by Surprise: A Dance Improvisation Reader. Middletown: Wesleyan University Press.
Danjoux, Michèle (2017) Design-in-Motion: Choreosonic Wearables in Performance, PhD Thesis, London College of Fashion, University of the Arts London.
D'Evie, Fayen (2017) 'Orienting through Blindness: Blundering, Be-Holding, and Wayfinding as Artistic and Curatorial Methods.' Performance Paradigm 13: 42-72.
Gaensheimer, Susanne and Kramer, Mario, eds. (2016) William Forsythe: The Fact of Matter. Bielefeld: Kerber Verlag.
Hay, Deborah (2015) Using the Sky: A Dance. New York: Routledge.
Ingold, Tim (2011) Being Alive: Essays on Movement, Knowledge and Description. London: Routledge.
Mitra, Royona (2018) "Talking Politics of Contact Improvisation with Steve Paxton." Dance Research Journal 50(3): 6-18.
Oliver, Mary (2014) Wild Geese: Selected Poems. Eastburn:  Bloodaxe Books Ltd.
Paxton, Steve (2008) Material for the Spine: A Movement Study. DVD-rom. Brussels: Contredanse Editions.
 Song, Haein (2019) Ecstatic Space: NEO-KUT and Shamanic Technologies. Phd Thesis, Brunel University London.
 Tsing, Lowenhaupt Anna (2015) The Mushroom at the End of the World:  On the Possibility of Life in Capitalist Ruins. Princeton: Princeton University Press.
Xu, Zhi (2019) Choreographing Chinese Dancing Bodies:  Yangge and Technology. PhD Thesis, Brunel University London (forthcoming)
Zumthor, Peter. 2006. Atmospheres: Architectural Environments – Surrounding Objects. Basel: Birkhäuser Verlag.