Welcome to the website for Research with a Twist: A Somatics Toolkit for Ethnographers.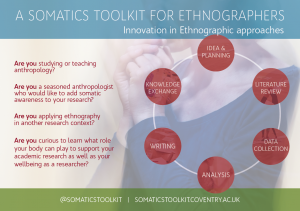 We are developing a series of audio-recorded guided explorations in which you can explore the body as (ethnographic) research tool that also supports emotional and mental wellbeing during the often challenging aspects of doing fieldwork.
Originally we intended to present topics related to the pre-fieldwork, fieldwork and post-fieldwork sequence that is so characteristic for ethnographic research, but many of the topics could be explored during more than one research phase. We think a 'pick and mix' approach better supports the fluidity of the (hermeneutic!) cycle.
The toolkit will be designed with and for anthropology PhD students during the 18 months duration of the project. We intend however to apply for additional funding, so that we can further develop toolkit ingredients and stimulate uptake also for other stakeholders.
During the project this website will be changing according to developments and findings. We would very much like to hear your comments and ideas, so please be in touch and help this site and the toolkit be a dynamic reality!