Welcome to the website for Research with a Twist: A Somatics Toolkit for Ethnographers.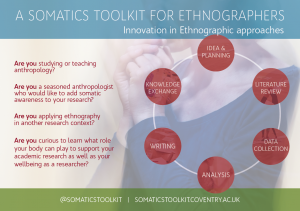 This website offers a platform to reflect on and practise with the body as site of knowledge within ethnographic research.
How can the body contribute during the ethnographic cycle as well as to the wellbeing of the researcher?
What is the Somatics Toolkit?
The Somatics Toolkit consists of three elements.
The core of the Toolkit is a series of audio tracks, each focusing on a specific topic such as: exploring your physical intelligence, noticing the lenses through which you conduct your research, self-confidence, the dynamic of seeing and being seen, navigating emotions and vulnerability in relation to your research, working with pairs or polarities within your data, and doing embodied literature review. This list is going to be expanded.
The website also features a series of blog posts with stimulating content written by a variety of researchers and somatic practitioners.
Finally, the PI Eline Kieft will host a podcast series, initially with anthropologists, talking about the role of the body in their research and teaching.
For whom?
We decided to focus on ethnography at this stage, but at the same time we recognise that these techniques are relevant to anyone conducting research, regardless of their methodology, since
the Toolkit addresses generic research activities such as literature review, data collection and analysis, and dissemination. The body can offer an innovative and creative way of tackling any problems that might arise during a projects' life cycle.
the body can provide a source of mental and emotional support in the often very challenging academic environment. Most researchers have a strong commitment to their work, their topic, their informants, but take very little time for self-care.
We would very much like to hear your comments and ideas, so please be in touch and help this site and the toolkit be a dynamic reality!